Bernadette Balagtas

"You are quite possibly the funniest lady ever." -Dan D., Purdue University Student Committee.

Bernadette Balagtas grew up in the Philippines. Her parents struggled to bring her and her three sisters to America in hopes of providing a better life. Once in America, Bernadette's main goal was to be a contestant on the legendary game show "The Price is Right". While in the Philippines, she saw a man win a washer and dryer by bidding one dollar and thought to herself, "Wow, only in America."

Bernadette started performing after she grasped the English language. Occasionally, she would slip from English to her native language which made for very interesting school plays. After high school, she pursued a nursing career because if you were Filipino you had to be a nurse. It's the LAW! Her big break came when she beat out over a thousand girls for the lead role of Rose Mercado in the critically acclaimed movie "The Debut". This ground breaking film is the first Filipino-American movie ever made and released in the United States. Roger Ebert gave it a "thumbs up" and stated that "newcomer Bernadette Balagtas has marquis potential".

"You were awesome on Comics Unleashed! I love the dog chasing bit! HILARIOUS!" -Eden L., Roosevelt Middle School Teacher.

Acting was a great outlet but Bernadette missed the immediate response she would receive while doing live theater. As a result, she decided to try stand-up comedy at the Comedy Store in Los Angeles. After her set, Mitzi Shore told her she was very funny and charming and to keep at it. Bernadette then combined her acting and comedy skills to perform a one-woman show called "Faces of America". The show consisted of nine different characters and dealt with issues of multi-culturalism and diversity. For two years she toured across the country at colleges and universities. During this experience Bernadette continued her education receiving her theater-arts performance degree from California State University of Long Beach.

Since that day, Bernadette has continued pursuing her acting and comedy career at comedy clubs, college/corporate events, and church functions across the country. Her energy, stage presence and clever wit has made Bernadette Balagtas one of the most talked about newcomers in stand-up comedy. Since she will never be a nurse, she hopes to fulfill her mother's dreams by someday playing one on TV.

Michael Batts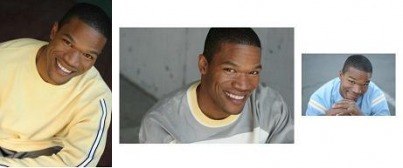 "The funniest guy I have ever met in person! I warn you watching his show might make you wet your pants!...lol." - Finlandia A., UCLA Student.

Michael Batts grew up in Hempstead NY, a ghetto so poor even the rats were on welfare. It was there that Batts first learned to make people laugh. Then in the 7th grade, Michael moved from the New York City projects to a small town called Seymour, Indiana. This marked the first time Michael ever saw white people in real life. Before that, he had only seen them only on National Geographic.

During high school, Batts made himself at home in Indiana, leading his Fighting Owls football team to the State Finals while being named the best personality in his class. In fact, he liked Indiana so much, that he accepted a full scholarship to Indiana University, where he was the only true freshman to start in a Big Ten game that year. His sights were set on the NFL until he was blinded-sided with nine surgeries. But this could not keep him down. Batts joined the Kelly School of Business, one of the top rated programs in America. Through all the surgeries and physical rehabilitation, Batts found time to graduate with a BA in Computer Information Systems and a minor in Speech Communication.

"You were very funny! :) We had a great time."-Marri Ann B., Corporate Event.

After College, Batts joined the 10th largest accounting firm in America focusing his talents on computer consulting. He traveled to clients all over the country; however, he found he needed more than his 9 to 5 job. Football had placed Michael in front of millions of people, but now his only audience was his secretary. So, on his birthday Michael performed at an open mic night a Crackers Comedy Club in Indianapolis just to see if he would like it. Well, he loved it and the crowd loved him. He found an audience again, except this time they didn't cheer, they laughed and laughed hard.

Batts started branching out and doing guest spots at local clubs while visiting clients in different states. Soon club owners let Batts do spots whenever he was in town doing business. Batts quickly developed a loyal fan following and became one of the hottest performers in the Midwest. Today, Michael Batts lives in Los Angeles where he is regarded as one of the most talented young comics around. He regularly performs at the top clubs as well as corporate functions, college gatherings, and even concerts. His widely acclaimed stage presence, unique writing style, and clever wit, made Michael Batts one of the most talked about newcomers in the comedy field. So catch a star in the making, you will be glad you did.